Before and after the Spring Festival, Guangzhou Diman Audio Company sequentially held some special promoting activities in the excellent communities of Guangzhou, bringing an enthusiastic holiday atmosphere for the people.

Before the holiday, many communities in the city were progressively planning entertaining activities for people. But because there were not enough hardware equipments for cultural recreation, the management offices could do nothing but thinking. Knowing this situation, Diman Audio Company soon got in touch with them, and decided to cooperate with the communities for "Clasic Community Dancing & Singing Contest and Cultural Educaiton of Movie & Music Activity".
Diman Audio Company would provid audio equipments and scene arrangement, the community management offices would provide places, while the activities would be recommended by both sides. The management offices would organize the people for dancing & singing contest, and Diman Audio Company would offere them best movies, music, singing performance by famous stars, Karaoke and others. The activity planning were agreed quickly by both sides, so the promoting activities which had strong cultural education were held one after another in different communities of Guangzhou.
Before starting, the community management offices posted many "Good News" on the building stairs and lifts, telling people that "Music is the lubricant while movies are the seasonings for your life.", which raised people's desire for relaxing after long time's hard working. Besides, many kids in the neighbourhood were holding colorful baloons with the characters of "Diman Audio" in their hands, which was like floating ads blowing into different houses, creating enough advertising for the activities. For the schedule, Diman Audio chose specially the weekend so that everybody could have enough time to take part in the different programs.
There were extremely happiness that was never seen before in the community during the activities. The people who were tired of endless commercial ads in the city were now watching, listening, singing, and dancing freely in this happy world.....; plus the humorous speech on movie & music culture by the onsite preside of Diman Audio, attracting many visitors' attention. In this insensible entertaining world, not only the knowledge of movie and music, but also Diman were acquainted by the audience.
Just like the Chinese saying of "Intentionally planting flowers but flowers won't bloom, unawarely sticking a willow into the ground the willow brings out tree shade.", aiming at creating happiness for the community, but bringing rich promotion achievement for Diman Audio Company. Many residents purchased Diman products right away, and many businessman called to the Daman headquarter asking for cooperation of Diman brand.¡£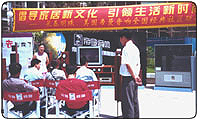 ¡¡¡¡

Beginning of the new year, DM-8000 DVD, which was developed by Guangzhou Diman Audio Company in over one year, was formally put into batch production. Once this news was published, the allied companies of Diman Audio in different areas called to Diman Audio Management Center Headquarter one after another, asking for delivering products as soon as possible.

Diman Audio Company involving in DVD market was an important decision for product develop strategy made two
| | |
| --- | --- |
| years ago. There were two disadvantages of Diman products, one was simple variety, the other was strong seasonalization. On the products' structure, Diman adheres on prolonging production line of audio products, meanwhile assisting by the policies of diversified audio-visual products and seasonal compensation products. It means to maintain the product structure of middle and high class products, increase middle and low price products, so as to cope with different demands from different consumers. At the same time, by selling some seasonal compensation products such as | |
DVD, professional audio wire materials and other relevant components, Diman Audio Exhibition Center is able to avoid the low sales volume in the low seasons and maintain a comparable high revenue among different seasons.
It was said that DM-8000 DVD has the most advanced technology in the current DVD market with the extra thin body of 58m; equiped with AC-3 and DTS, which are presently the mainstream decoding technologies in the world, can read almost every disk in the world; the applications of 5.1 sound channel stereo signal output and line-by-line scanning technology have made DM-8000 the same as other most sophisticated products. But what most attracts the consumers and dealeres is its extremely good price and high ratio between price and quality. Diman Audion Company has dicided to reach into the end users by this method as well as its current sales channel before it put DM-8000 into the market.

There are experts saying that Diman will once again activate the DVD market by its mature and well prepare campaign.